Discover Customized Commercial Security Solutions
At Trilogy Security Consulting, we've made it our mission to provide business owners in Northern New Jersey and select parts of New York with peace of mind through the latest commercial security solutions. From cutting-edge IP-based surveillance cameras to penetration testing, our security consultants have the years of experience installing and servicing security systems that you need to keep your business safe. If you're a business owner in Bergen, Passaic, Sussex, Warren, Union, Hudson, Morris, or Essex County in Northern New Jersey, or Rockland County, Westchester County, or Staten Island in New York, our security professionals are here to help. Read on to learn more about our commercial security services, then get in touch with the Trilogy Security Consulting team today.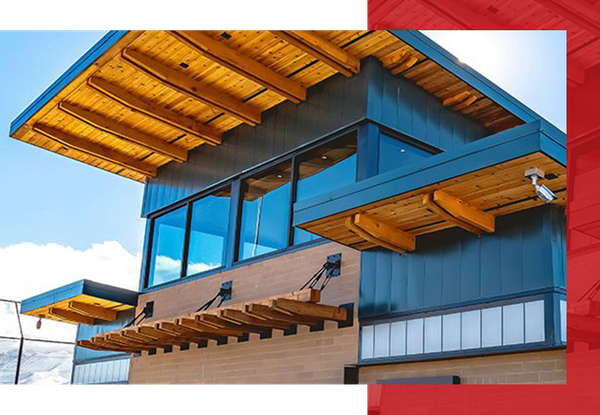 Our Commercial Services
Physical Security Penetration Testing and Audits
Life Safety Fire Door Inspections
Fire Exit Device Service
Service Contracts Available Upon Request
NET 30 Terms Available
Access Control Systems
Video Surveillance Systems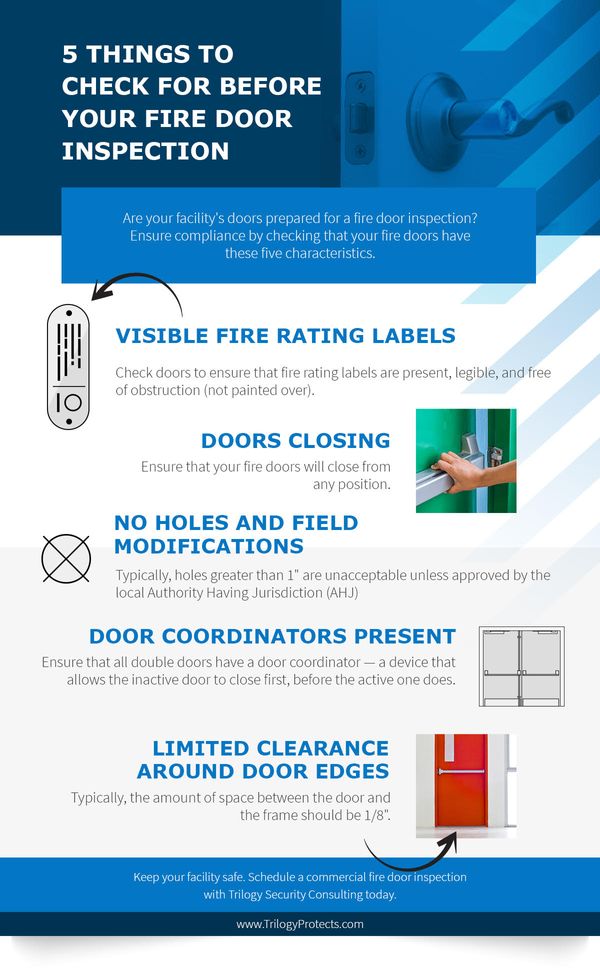 Physical Security Penetration Testing and Audits
During a physical security penetration test, our security engineers will simulate a real-life threat scenario where a malicious actor tries to enter your building or office via your exterior and interior windows and doors. The goal is to expose weaknesses in your building's overall physical defenses, and prevent breaches before they happen.
Life Safety/Fire Door Inspections
Annual life safety and fire door inspections not only ensure that your employees and commercial property are kept out of harm's way, but also that your business is adhering to all codes and standards mandated by law. These inspections are not punitive, but rather educational opportunities for you as a business owner to learn how you can better keep your commercial assets safe. They allow you to take proactive steps to prevent fire door or life safety devices from malfunctioning, should a worst case scenario arise. At the end of your life safety/fire door inspection from Trilogy Security Consultants, you will be provided with a useful template that you can refer to in order to maintain ongoing compliance. Your employees' lives are in your hands — keep them safe by scheduling your annual life safety/fire door inspection with Trilogy Security Consultants today.
Fire Exit Device Services
In order to ensure an optimal outcome in emergency situations, your employees need a way to quickly exit your property. The best way to do this is by installing panic bars from Trilogy Security Consulting. Panic bars (sometimes referred to as "crash bars") help you adhere to life safety compliance, avoid tragedy, and they may even decrease your insurance. We offer the highest standards in terms of life safety services, including installation, repair, and maintenance for panic bars and other exit devices.
Access Control Systems
Access control systems allow you to provide quick, convenient access to areas of your building or office for authorized persons, while denying access to unauthorized ones. Access control systems are ideal for businesses or offices with individual-specific workstations, areas containing sensitive information and/or private data, and multiple entrances or exits. Types of businesses that we have installed access control systems for in the past include banks, HIPAA- compliant medical facilities, insurance companies, data centers, software developers, pharmaceutical companies, and many more.
Today, access control systems consist of so much more than just cards and card readers. Many of the latest access control systems are cloud-, smartphone-, or IoT-based, allowing for the ultimate in convenience and auditing capabilities. To get started with our commercial access control system services, get in touch with our Northern New Jersey security consultants today.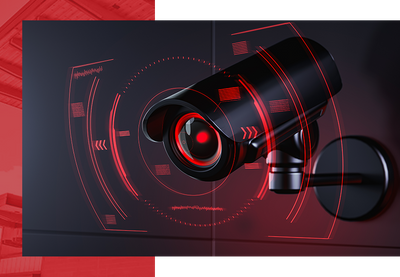 Video Surveillance Systems
At Trilogy Security Consulting, we specialize in the installation and servicing of video surveillance systems and security cameras. Whether you're looking to install an entirely new video surveillance system, update your current one, or are simply looking for a quick repair, Trilogy Security Consulting has got you covered.
We offer a variety of different types of video surveillance systems and security cameras, including IP-based surveillance systems, CCTV surveillance systems, wireless security cameras, motion detector cameras, and more. These devices allow you to capture what happens in and around your business with ease, helping to prevent disasters before they occur. In particular, commercial security cameras can help you prevent employee theft and shrinkage, increase worker productivity, deter shoplifters and vandals, help your customers feel safe, provide evidence in instances of crime, resolve disputes more quickly, and protect your business from legal action. You can learn more about our video surveillance and security camera services on our Video Surveillance page.
Net 30 Terms Available
We are happy to extend the businesses we work with net 30 terms. We understand that small businesses in particular may not have large amounts of cash lying around, and, as a small business ourselves, we are happy to work with you so that you can afford to keep your employees and your businesses out of harm's way quickly and practically.
Service Contracts Available Upon Request
We also offer service contracts for clients looking to ensure that their business's security measures are kept up to code at all times. Depending on the terms requested, we can offer you routine maintenance and repairs as well as upgrades and even emergency services. Just let us know what kind of contract you're looking for, and we're happy to discuss what we can offer.
Protect Your Business With Trilogy Security Consultants
As a business owner, you already have a lot on your plate. Don't let security concerns be another one. If you're looking to keep your business and employees out of harm's way, contact the team at Trilogy Security Consulting today. We proudly serve Bergen, Passaic, Sussex, Warren, Union, Hudson, Morris, and Essex Counties in Northern New Jersey, and Rockland County, Westchester County, and Staten Island in New York.